ShakeGel™ 3D (5mL, Catalog # RK1622001)
Description
Description
ShakeGel™ 3D is an animal origin-free functionalized polysaccharide based bioactive hydrogel that can mimic the natural microenvironments and microstructures of tissue in supporting the 3D tissue-like culture in vitro and in vivo.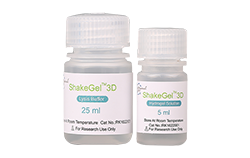 • The product can be stored at room temperature and use at room temperature.
• Adding cells is so easy by simply shaking the gel to liquid and mixing the cells with the gel.
• Clear gel for visualization and imaging.
• Fast gelation in 10-20 minutes after mixing with cells.
• Injectable for animal studies.
• Easy to retrieve cells with lysis buffer provided.
• Low cost.
• No contamination of unwanted growth factors.
• Controllable stiffness.